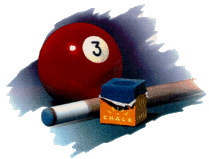 Virtual International
Players Ladder
"We have the players if you have the balls!"
Last modified on
Thursday, November 6, 2008

---
Welcome to the VIP Ladder! The VIP Ladder is the largest Virtual Pool gathering place on the Internet. Here you will find hundreds of players from around the world competing for the top ranked position in 3-ball, 6-ball, 8-ball, 9-ball, 10-ball, 15-ball, Straight Pool, Rotation, Bank Pool, One Pocket, Snooker, 1-Cushion Billiards, 3-Cushion Billiards, Basic Pocket Billiards, Honolulu, Cowboy, Bowlliards and online tournaments. In addition, the VIP Ladder has competition ladders for a host of other PC games (Links, Descent and Warcraft - just to name a few). And it's all free!!!
New members, please read the how to play page.
If you have questions or are encountering problems, please check out the VIP Ladder FAQ for answers to frequently asked questions. If you still cannot find an answer to your problem, see the VIP Ladder support page to ensure that you are including all of the necessary information in your email message.
New hosting service
Because of the poor reliability and technical support, we have moved the VIP Ladder to a new hosting service. During this transition, there were some intermittent problems and brief outages. Things should be much more stable now. Sorry for any inconvenience. Play on!

New VIP Ladder version 2.11.1
A new version of the VIP Ladder is now in place. This new version incorporates a slight change to the point system. The changes are detailed on the VIP Ladder News web page.

New VIP Ladder version 2.11.0
A new version of the VIP Ladder is now in place. This new version incorporates a new point system and a Difficulty Rating. The changes are detailed on the VIP Ladder News web page.

VIP Ladder version 2.10.0
A new version of the VIP Ladder is now in place. This new version fixes problems with the courtesy rating system. The changes are detailed on the VIP Ladder News web page.

Ladder has been reset! - It's been a long time since it was last reset. So, we have cleaned the slate and let everybody start over with 1,000 points. Let the games begin!

We're back! Our hosting service pulled the rug out from under us. We've moved to a different (much better) hosting service and everything is up and running again. Sorry for the inconvenience...

The VIP Ladder Rules web page has a clarification for winning a 9-ball match. All players should familiarize themselves with this rule. It is NOT a new rule. It is simply a clarification of the standard rules of 9-ball.

The VIP Ladder Rules web page has a clarification for reporting the loss of a match. Some players felt that they have 24 hours to report a match. All matches are to reported IMMEDIATELY after the match is completed. All players should familiarize themselves with this rule. It is NOT a new rule. It is simply a clarification of the original VIP Ladder rules.

Cheating on the VIP Ladder is not allowed! All members should read this.

Want a fast, secure and FREE way to send money through email? PLUS, get $5 for signing up? Check out PayPal.com Especially if you buy or sell at online auctions. Pay ANYBODY who has email with a credit card. Oh, did I mention that it's FREE (for the buyer AND the seller)???

Looking for gift ideas? Want to provide a subtle hint about the gifts you want? Check out the VIP Ladder links for links to books and software (the VIP Ladder is listed in some of the books).

REMINDER: All matches are to be played one-on-one. Matches with more than 2 players skews the statistics when reporting. See the VIP Ladder FAQ for more information.

Details of our first VIP Ladder gathering in Canada.

Are you apprehensive about joining the VIP Ladder? Don't be! Players of all skill levels are invited. The VIP Ladder point system has two divisions and provides an opportunity for players of all skill levels to compete. Come on and join the fun!

Check out the Virtual Pool messageboards, chatrooms and clubs! VPOOL.COM has a new VPool Messageboard with some excellent features. Another great addition to the Virtual Pool community! Good job AJ! Also, we created a Yahoo club called Virtual Pool Online. This club also has a messageboard, chatroom, photo album, event calendar and much more. These new sites are an excellent way to meet other players and find out the latest information about the Virtual Pool online community. The links for these new sites are located at the bottom of this page and on the links page. Hope to see you all there!

Break picker - randomly picks which player breaks the first game of a match (maybe we will change the name to the Virtual Coin Tosser)

Slate of the Union - Comments on VT2 and other things

WARNING! WARNING! WARNING! Read about this attempted VIP Ladder security breach
Virtual Pool Tournament links:
VPOOL.COM - Virtual Pool Online Tournaments
StepChild's Straight Pool tournament
Phatmat4's 98 tourney
PoolQ's Handicapped 9 ball tourney
VP Pool Palace
Online Links Society Links LS Tour

Virtual Pool Messageboards, Chatrooms and Clubs:
Virtual Pool Online Club
VPOOL.COM Message Board